#1 Best Selling IGNOU EPS-06 Help-Book & Study-Guide in IGNOU Marketplaces.
Get Good Marks in your BA Political Science Programme in the Term-End Exams even if you are busy in your job or profession.
We've sold over 23,910,064 Help Books and Delivered 27,650,818 Assignments Since 2002.
As our customers will tell you...yes, it really result-oriented.
IGNOU EPS-06 Code Details
University

IGNOU (Indira Gandhi National Open University)

Title

Government and Politics in East And South East Asia

Language(s)

Code

EPS-06

Subject

Political Science

Degree(s)

BA

Course

Core Courses (CC)
IGNOU EPS-06 English Topics Covered
Block 1 -
Introduction
Unit 1 - Introduction to the East Asian Region
Unit 2 - Introduction to the South-East Asian Region
Unit 3 - Indians in South-East Asia
Unit 4 - Chinese in South-East Asia
Block 2 -
China
Unit 1 - Revolution and Ideology
Unit 2 - Economic and Political Reforms
Unit 3 - Foreign Policy
Block 3 -
Japan
Unit 1 - Historical Context: Nationalist Upsurge and Rise of Capitalism
Unit 2 - Politics: Structure and Processes
Unit 3 - Foreign Policy
Block 4 -
Korea
Unit 1 - Evolution of Modern Korea
Unit 2 - Patterns of Political and Economic Development
Unit 3 - Foreign Policy
Block 5 -
Government and Politics in South East: Asia-I
Unit 1 - Singapore
Unit 2 - Malaysia
Unit 3 - Philippines
Block 6 -
Government and Politics in South East: Asia-II
Unit 1 - Indonesia
Unit 2 - Thailand
Unit 3 - Burma
Block 7 -
South East Asia: Society and Politics in Indo-China
Unit 1 - Vietnam
Unit 2 - Combodia
Unit 3 - Laos
Block 8 -
Issues and Trends
Unit 1 - Patterns of Economic Development in Southeast Asia
Unit 2 - Patterns of Political Development in East and Southeast Asia
Unit 3 - Ethnicity and Nation-Building
Unit 4 - Dynamics of State and Civil Society in East and Southeast Asia
Unit 5 - Regional Co-operation with Special Reference to ASEAN
IGNOU EPS-06 Hindi Topics Covered
Block 1 -
प्रस्तावना
Unit 1 - पूर्वी एशियाई क्षेत्र की प्रस्तावना
Unit 2 - दक्षिण-पूर्व एशियाई क्षेत्र की प्रस्तावना
Unit 3 - दक्षिण-पूर्व एशिया में भारतीय लोग
Unit 4 - दक्षिण-पूर्व एशिया में चीनी लोग
Block 2 -
चीन
Unit 1 - चीनी क्रांति एवं विचारधारा
Unit 2 - चीन में राजनैतिक एवं आर्थिक सुधार
Unit 3 - चीन की विदेश नीति
Block 3 -
जापान
Unit 1 - ऐतिहासिक संदर्भ: राष्ट्रवादी उफान और पूँजीवाद का उदय
Unit 2 - राजनीति: संरचनाएँ और प्रक्रियाएँ
Unit 3 - विदेश नीति
Block 4 -
कोरिया
Unit 1 - आधुनिक कोरिया का विकास
Unit 2 - राजनीतिक और आर्थिक विकास का स्वरूप
Unit 3 - विदेश नीति
Block 5 -
दक्षिण-पूर्व एशिया में सरकार एवं राजनीति
Unit 1 - सिंगापुर
Unit 2 - मलेशिया
Unit 3 - फिलीपीन्स
Block 6 -
दक्षिण पूर्व एशिया में शासन और राजनीति
Unit 1 - इण्डोनेशिया
Unit 2 - थाईलैंड
Unit 3 - बर्मा
Block 7 -
दक्षिण-पूर्व एशिया: हिन्द-चीन में समाज एवं राजनीति
Unit 1 - वियतनाम
Unit 2 - कम्बोडिया
Unit 3 - लाऔस
Block 8 -
मुद्दे और प्रवृत्तियाँ
Unit 1 - दक्षिण पूर्व एशिया में आर्थिक विकास की पद्धति
Unit 2 - पूर्व और दक्षिण एशिया में राजनैतिक विकास की पद्धति
Unit 3 - जातीयता और राष्ट्र निर्माण
Unit 4 - पूर्व और दक्षिण पूर्व एशिया में राज्य और नागरिक समाज का समीकरण
Unit 5 - दक्षिण पूर्व एशियाई राष्ट्र संगठन (एशियन) के विशेष संदर्भ में क्षेत्रीय सहयोग
Buy EPS-06 Help Book
IGNOU EPS-06 (July 2022 - January 2023) Assignment Questions
A) DCQ: Answer the following in about 500 words each. 1. Describe the political tradition in East Asia. 2. Discuss the American intervention in Vietnam. B) MCQ: Answer the following in about 250 words each. 3. Write a note on economic policy issues in post-1970s South–East Asia. 4. Examine the issue of merger of Singapore with Malaya. 5. Write a note on Soekarno's concept of 'Guided Democracy'. 6. Elaborate upon as to how Thailand escaped colonial rule. C) SCQ: Write short notes on the following in about 100 words each. 7. Background to the Chinese revolution 8. Land and people of Japan
IGNOU EPS-06 (July 2021 - January 2022) Assignment Questions
A) DCQ: Answer the following in about 500 words each. 1. Describe the political tradition in East India. 2. Discuss the background to the Chinese revolution. B) MCQ: Answer the following in about 250 words each. 3. Write a note on rise of capitalism in Japan. 4. Trace the socio –political decline of Korea. 5. Write a note on Sukarno's concept of Guided Democracy. 6. Trace the growth of the Malaysian Constitution. C) SCQ: Write short notes on the following in about 100 words each. 7. Treaty of Tu Duc 8. Authoritarian and military rule in South –East Asia
Buy EPS-06 Assignment
IGNOU EPS-06 (July 2022 - January 2023) Assignment Questions
भाग - एक निम्नलिखित प्रश्नों के उत्तर लगभग 500 शब्दों में (प्रत्येक ) दीजिए । 1. पूर्व एशिया में राजनीतिक परंपरा का वर्णन कीजिए । 2. वियतनाम में अमेरिकी हस्तक्षेप की चर्चा कीजिए । भाग - दो निम्नलिखित प्रश्नों के उत्तर लगभग 250 शब्दों में (प्रत्येक ) दीजिए । 3. 1970 के बाद दक्षिण - पूर्व एशिया में आर्थिक नीति के मुद्दों पर एक लेख लिखिए । 4. सिंगापुर का मलाया से एकीकरण के मुद्दे की जाँच कीजिए । 5. 'निर्देशित लोकतंत्र' की सुकार्नो की अवधारणा पर एक लेख लिखिए । 6. थाईलैण्ड, औपनिवेशिक शासन से किस प्रकार बच निकला, विस्तारपूर्वक वर्णन कीजिए । भाग - तीन निम्नलिखित प्रत्येक पर लगभग 100 शब्दों में संक्षिप्त टिप्पणी लिखिए । 7. चाइना की क्रांति की पृष्ठभूमि 8. जापान की भूमि और लोग
IGNOU EPS-06 (July 2021 - January 2022) Assignment Questions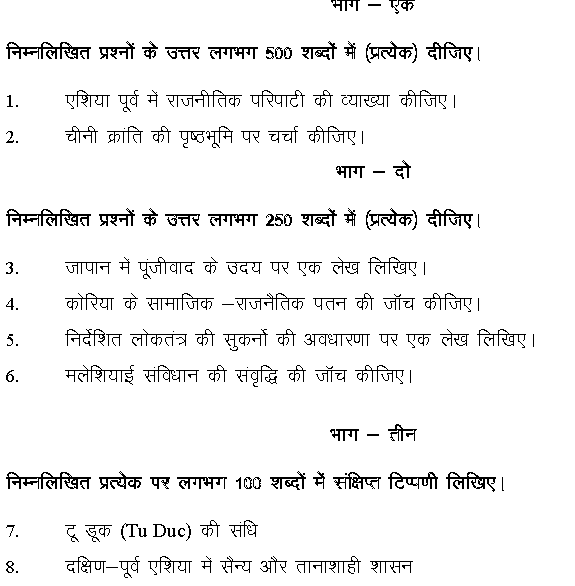 Buy EPS-06 Assignment
EPS-06 Previous Years Question Papers
Related Codes
Why Download EPS-06 Materials and What is its best use?

To attend IGNOU EPS-06 Term-End Examination, you must first submit your Assignments to the university and it is possible from the EPS-06 study material. You can solve all necessary Assignments using Help Books. This will help in gaining good marks.

All best wishes with our efforts that you do not meet any obstacle before attending examinations next year. You can pass the BA Political Science Programme Annual Exams with a good grade using Books/Materials from any one place at home or anywhere else!

ALL THE BEST!!!
Team GullyBaba