Awards
Our Awards and Sammans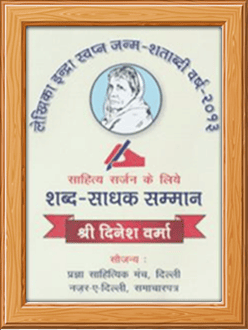 Shabd Sdhak Samman
The Director of Gullybaba Publishing House Pvt. Ltd., Dinesh Verma, was honoured with the prestigious Shabd Sadhak Samman onthe occasion of Lekhika Indra Swapn JanmShatabdi Varsh 2013. This programme was organised by Najare Dilli News Pape.
Avantika Rashtriya Sewa Samman
Mr. Dinesh Verma, The Director of GullyBaba Publishing House Pvt. Ltd. was honored with the Avantika Rashtriya Sewa Samman for his outstanding contribution to the field of social work at an award ceremony. Avantika, an international group of contemporary artists and intellectuals, gives this award every year. The main motive of the group is to honour educationists, teachers and students for their pathbreaking contribution in promoting social welfare, education and Indian art and culture. Dr. P. D. Singh, Cheif Commissioner, Avantika Group, and Kuldeep Sharma, Prog. President Avantika , Dr. J.R Kashyap, Commissioner, Avantika Group & Mrs. Rajini Agarwal, Secretary, Avantika were among those who were present on the occasion..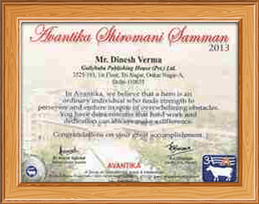 Avantika Shiromani Samman
Mr. Dinesh Verma, The Director of GullyBaba Publishing House Pvt. Ltd. was honored with the Avantika Shiromani Samman for his outstanding contribution to the field of education and social work at for his outstanding contribution to the field of education and social work at an award ceremony, organised by Banga Sanskriti Bhawan Trust, New Delhi. Avantika, an international group of contemporary artists and intellectuals, gives this award every year. The main motive of the group is to honour educationists, teachers and students for their path-breaking contribution in promoting social welfare, education and Indian art and culture. The award includes an appreciation certificate, a memento and a shawl, which was presented to Mr. Verma along with 75 other recipients of the same award by Mahabali Satpal Singh, Padma Shri and Dronacharya Award, who is now Additional Director (Education), Sports, Delhi Government. Dr. Anand Aggarwal, Director, Avantika Group, and Dr Ram Avtar, former Vice-Chancellor of Agra University, were among those who were present on the occasion