About Us
Gullybaba Publishing House Pvt. Ltd. is India's Leading Publishing House dedicated specifically to IGNOU and other Distance Learning students. Established in 2002 in Delhi, it was born out of empathy and a true understanding of the challenges and pain points of the IGNOU students.
GPH Profile
Founded by Dinesh Verma, an IGNOU student who faced these challenges and found ways of overcoming them, Gullybaba Publishing House is in a class apart from all other such publishing houses and excels at providing exactly what Distance Learning/ IGNOU students need to excel in academics with Focused, Strategic and Time-Sensitive efforts. Because of this genuine care for students' welfare, GPH has become a household name for the IGNOU Students and is well recognized and highly respected for its products and services. Our excellent, easy to use Books & Study Material and our Strong and Reliable Distribution Network, with a Global Retail Distribution Chain, make our products easily accessible to students anywhere and at any time.

2002 Founded
19+ Years Experience
1000000+ Happy Customers
We are delighted to be a leading Private Limited, ISO 14001 & ISO 9001 Certified Company in the publishing field for the last 14 years.
We take great pride in being the first choice of students as their trusted Friend, Philosopher & Guide by regularly bringing out Reference Books / Study Materials & Refresher Books for different Courses of various Universities & Institutes. We have already published these for courses like
BA, B.Com, B.Sc.
MA, M.Com
BCA, MCA
MTM
BTS
MBA, MBA - IT
BSW, MSW
MADE, MARD, PGDRD, DNHE, CTE, etc.
Our Team
Working tirelessly for the welfare of Distance Learning Students across the globe, our team is a consortium of highly skilled, qualified, knowledgeable and experienced professionals. Their detailed know-how and immense industry expertise have resulted in the smooth functioning and delivery of BEST IN CLASS Services to our students. GPH ensures that each Book/Study Material is executed to perfection under the able guidance of these professionals and is practically useful to students.
Our incredible team is made up of:
Subject Matter Experts
Content Developers
Editors
Proofreaders
Graphic Designers
Marketing Experts
All our Books/Study Materials are only written and edited by experts in the respective fields. The contents of our Help Books are oriented to serve the purposes of:
Being Student Friendly and in easy to understand simple language.
Enhancing the overall understanding of the subject
And obtaining higher marks in their examinations
Based on the subject matter both in Text & Question-Answer forms
And always with Sample Papers that practically prepare you for the exams.
The Cover Page printing is in color, and it is laminated for easy maintenance. We at team Gullybaba.com work to make your online shopping experience easy & fun with a user-friendly shopping interface.
The process is as easy as 1-2-3!
Select products.
Finish your order procedure in a few simple steps.
And get the product delivered to your doorstep.
Due to our effective marketing network and well-planned strategies, we are able to serve readers located even at far-off remote locations.
Gullybaba is for everyone, everywhere and every time!
We have been and continue to be high on business ethics and transparent in our dealings. This has enabled us to establish a relationship of trust and reliance with our clients and distributors. We strictly adhere to ISO norms and follow the best practices to publish extremely high-quality materials and are in accordance with international standards. Some of the compelling reasons why students love us and keep coming back to us:
A vast collection of books on variegated subjects
The latest editions of all our books
Exclusive offers available to direct customers
Free shipment in India on purchase of two or more printed books
The Reason Of Our Existence
In the words of Nelson Mandela, "Education is the most powerful weapon which you can use to change the world". The very reason for the existence of 'Gullybaba Publishing House Pvt. Ltd.' is to nurture our young generation with the knowledge that can help them be employable at the best places, educate them on contemporary topics, and help them become better human beings.
To further the purposes of education, we at Gullybaba have chosen to work specifically for Distance Learning Students of IGNOU and other Distance Learning Universities. We strive to take education and learning through our Books & Study Materials right to the doorsteps of students no matter where they may be. Excellent Education Support right at their Doorstep for IGNOU & other Distance Learning Students is our Motto!
Our Vision & Mission
Vision: Helping IGNOU Students pass their degree in the fastest time possible with great marks. To enable them to achieve their dream job, business success, dream life - partner and lead a fulfilled life. Making them global citizens contributing to creating a better world. Mission: To emerge as a Global Publishing House supporting Distance Learning Education with special emphasis on IGNOU. Our aim is not merely to penetrate the markets to expand the reach of our books, but to understand the contemporary educational needs of IGNOU students and fulfil those needs with our Best in Class Products/Services.
Meet Our Director
At Last, Meet Our Magnetic Personality and Motivator, Director, Mr Dinesh Verma, the power that drives us all and Gullybaba
Gullybaba Publishing House is the brainchild of Mr
Dinesh Verma,
an award-winning Publisher, Best-Selling Author, Popular Speaker, and Successful Book Strategist & Coach. He is the pioneer of providing quality materials to the students of IGNOU because, having been a student of IGNOU, he understood the difficulty and pain of the non-availability of quality materials himself. To fill that gap and alleviate these problems, he made notes for himself and shared them with his friends and fellow students at their request. When the results came out, they were fabulous, and everyone thanked him for his excellent notes. It was then that he decided to do something substantial for all IGNOU students, and thus his first book and Gullybaba Publishing house was born. It became a household name quickly and has remained an IGNOU student's best friend since then. He has helmed the Gullybaba Publishing House Pvt. Ltd. for the last two decades and worked to make it the largest and No.1 Company in IGNOU Self-Help Books in the World. Not willing to rest on his laurels, he has also set up Pendown Press, an exclusive global platform for Entrepreneurs, Coaches, Speakers, Consultants, Academicians, Trainers, etc., who have something to share with the world, and believe in the impact of books on the Business and millions of lives. To date, 2200+ books in total, which cover fiction & non-fiction topics have been published under Dinesh's leadership. He has worked with senior scientists, authors in India, UK, Dubai, and Ukraine. Many of our Authors have been selected by GOI for Beijing, South Africa, London, UAE, and other International Fairs in their official catalogue for the respective countries. He has also been blessed to have had an opportunity to meet the then President of India, Honourable Shri Pranab Mukherjee in the Rashtrapati Bhawan in 2014 and gift a book on the environment published by my publishing house. Having supported hundreds of thousands of students to achieve their goals, he holds and works toward his vision of making quality support material available to all IGNOU students to enable timely completion of their degree leading to gainful employability globally.
Certificates - Seal of Trust
The best way to build trust and credibility is by getting a company certification. Let our certifications speak for us. Rest assured that you are getting quality products and services from Us. We would love to serve you with increased trust and credibility.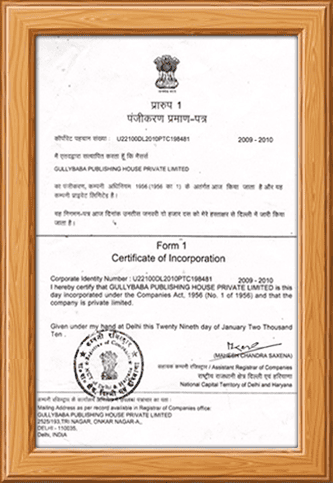 Certificate of Incorporation
ISO Certificate
ISO Certificate
Trust Seal Association Crisil - Indiamart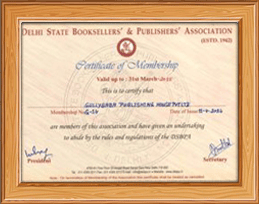 Delhi State Bookseller's & Publisher's