#1 Best Selling IGNOU BULE-04 Help-Book & Study-Guide in IGNOU Marketplaces.
Get Good Marks in your BA Urdu Programme in the Term-End Exams even if you are busy in your job or profession.
We've sold over 21,622,970 Help Books and Delivered 24,675,847 Assignments Since 2002.
As our customers will tell you...yes, it really result-oriented.
IGNOU BULE-04 Code Details
IGNOU BULE-04 Urdu Topics Covered
Block 1 -
اردو کی افسانوی نثر کا ارتقاء
Unit 1 - اردو نثر کے ابتدائی نقوش
Unit 2 - اردو نثر کا ارتقا
Unit 3 - افسانوی نثر کی اصناف کا ارتقا
Unit 4 - اردو میں فکشن کی روایت
Block 2 -
اردو زبان کی ابتدا اور ارتقا
Unit 1 - داستان نگاری کا فن اور اردو کی داستانیں
Unit 2 - ملا وجہی کی سب رس کا تجزیاتی موطلہ
Unit 3 - میر امن کی باغ و بہار کا تجزیاتی موطلہ
Unit 4 - رجب علی بیگ سرور کی فسانۂ عجائب کا تجزیہ
Unit 5 - انشا کی رانی کیتکی کی کہانی کا تجزیاتی موطلہ
Block 3 -
اردو ناول نگاری
Unit 1 - ناول کا فن
Unit 2 - اردو میں ناول نگاری کا ارتقا
Unit 3 - قرۃ العين حيدر اور ان کا فن
Unit 4 - (سیتا ہرن کا تجزیاتی مطالعہ (ا
Unit 5 - (سیتا ہرن کا تجزیاتی مطالعہ (ب
Block 4 -
(اردو افسانہ نگاری (ا
Unit 1 - مختصر افسانہ کا فن اور اردو افسانہ
Unit 2 - شطرنج کے کھلاڑی کا تجزیہ
Unit 3 - ٹوبہ ٹیک سنگھ کا تجزیاتی مطالعہ
Unit 4 - مہا لکشمی کا پل کا تجزیاتی مطالعہ
Block 5 -
(اردو افسانہ نگاری (ب
Unit 1 - للاجونتی کا تجزیاتی مطالعہ
Unit 2 - آنندی کا تجزیاتی مطالعہ
Unit 3 - ننھی کی نانی کے جملے پہلوؤں کا تجزیہ
Unit 4 - پیتل کا گھنٹہ کا تجزیاتی مطالعہ
Block 6 -
اردو ڈراما : فن، روایت، تجزیہ
Unit 1 - اردو ڈراما : فن اور روایت
Unit 2 - اندر سبھا : ایک تجزیاتی مطالعہ
Unit 3 - انار کلی : ایک تجزیاتی مطالعہ
Unit 4 - آگرہ بازار : ایک تجزیاتی مطالعہ
Buy BULE-04 Help Book
IGNOU BULE-04 (July 2021 - January 2022) Assignment Questions
IGNOU BULE-04 (July 2019 - January 2020) Assignment Questions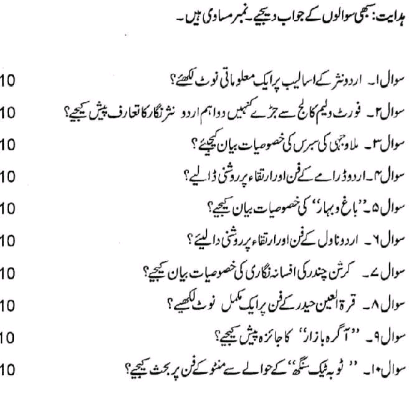 Buy BULE-04 Assignment
Related Codes
Why Download BULE-04 Materials and What is its best use?

To attend IGNOU BULE-04 Term-End Examination, you must first submit your Assignments to the university and it is possible from the BULE-04 study material. You can solve all necessary Assignments using Help Books. This will help in gaining good marks.

All best wishes with our efforts that you do not meet any obstacle before attending examinations next year. You can pass the BA Urdu Programme Annual Exams with a good grade using Books/Materials from any one place at home or anywhere else!

ALL THE BEST!!!
Team GullyBaba